Jody began playing the piano at the tender age of 5 and when she was 12, she organized her first choir to sing in a local M.S. Telethon, matching outfits and all! Around this same time, she took up the guitar and began experimenting with songwriting. Finding any excuse she could to perform for live audiences, Jody would convince her musical friends to perform with her in local nursing homes and talent shows. (Her brothers called it "showing off"! Jody called it fun and energizing!) Jody sang in church and school choirs, played in handbell choirs, jazz bands, marching bands and orchestras throughout her middle school and high school years in Rochester, MN. She also enjoyed performing in numerous local musical theatre productions including; Oliver!, The Sound of Music, and Godspell.
By the age of 16, she was teaching piano and organ lessons at a local music store. It was there that she started to realize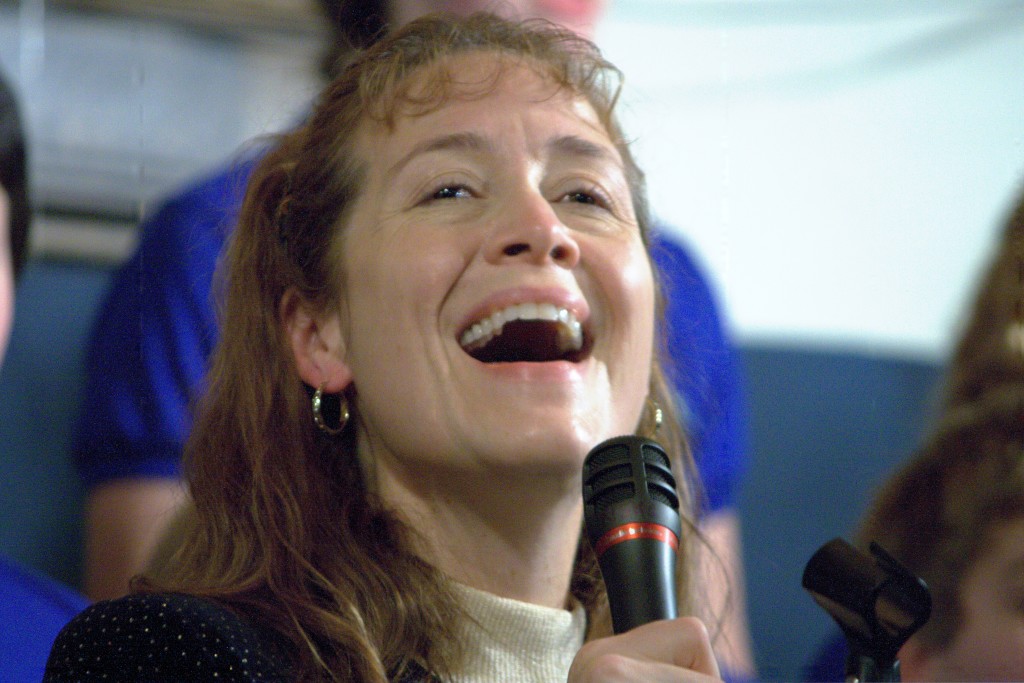 how much fun it was to help people develop their musical talents and abilities. She also studied voice, participating in annual high school music contests as a soloist, ensemble member and accompanist. Following her graduation as a music education major from St. Olaf College in Northfield, Minnesota, Jody began her K-12 vocal music-teaching career. She taught senior high and elementary vocal music for twenty years, directing many choirs as well as casts for high school musicals.
After experiencing a life-changing encounter with Jesus Christ, Jody began focusing more on using music to worship God. She became a vocalist and keyboard player for the worship band, Salt and Light. She also directed adult choirs and adult worship bands as a lay music leader in her home church. At the same time, she studied summers and evenings at the University of St. Thomas and completed her Masters Degree shortly before the first of her three children was born. Throughout this time, Jody would occasionally write praise and worship songs both for her personal time with the Lord and to share with friends and congregations.
Once she started her family, Jody wasn't sure that she would ever have time to write another song! However, God was gracious and once her three girls grew up a bit, the Lord led Jody to take a leave from her public school teaching career. The Lord had a new direction planned and shortly thereafter, Jody found herself at New Hope Church (formerly Crystal Evangelical Free Church) in New Hope, MN. Jody is now the worship leader for children in grades 1-6. Approximately 175 children attend these worship times together with their teachers each Sunday morning. These are the children who inspire Jody and whom God uses to stir up her songwriting gift.
Shortly after volunteering to lead the children, Jody started writing songs again. She began with simple tunes to match the scriptures that the children were trying to memorize for Sunday School each week. Jody would teach the new songs to the children each week and they would enthusiastically learn them. The new songs would come while she was driving down the road or vacuuming or sitting in an ice arena watching her daughter's figure skating lesson. Now she always has a pencil and paper handy in case a good melody or lyric comes to mind! Jody had held faithfully to a prophecy that she received earlier in her life, foretelling of a time when she would write more prolifically and record her original songs so that they could be shared with other believers and inspire them in their walk with the Lord. She had hidden that promise in her heart, believing in faith that if it was truly a word from God that He would bring it to pass in his perfect timing. She had never imagined that God's plan would involve such amazing young worshipers in order to fulfill his promise to her! He is always "able to do immeasurably more than all we ask or imagine, according to his power that is at work within us" (Eph. 3:20) Amen!
This newest season in Jody's life has allowed her to combine her passion for worship and writing new songs, with her love for children and for stirring up God's gifts within them. Jody is called to help raise up the next generation of worshipers who will extravagantly love God with all their heart, mind and soul. She believes that when people hear children worshiping God, their hearts will be softened and they will turn to Him with a childlike faith, and put their trust in Him. One of Jody's favorite verses from Psalm 40:3 reads:
"He gave me a new song to sing. It is a song of praise to our God. Many people will see what He has done and stand in awe before Him. They will put their trust in the LORD."